STUDIO 101 LONDON
Studio 101 London is 102m2 of spaces for hire under the arches of Deptford mainline railway station. Just one stop from London Bridge, Deptford is a regeneration area with many attractions including art galleries, coffee shops, restaurants and deli's as well as high street shopping. Studio 101 is available for photo and video shoots, auditions, business meetings, training courses, seminars, workshops and events. Car parking. Our aim is to provide an affordable and convenient service at great value for money. We are open 7 days a week and offer studio hire from as little as a 1 hour booking. We also provide recommended production services, graphic designers, photographers, videographers, MUA, hair dressers and stylists to our customers.
COVID-19 pandemic counter measures to ensure smooth and secure running of the studio:
1. Only one booking at a time is allowed in the building to limit the health risks to both our staff and clients. This means that we now don't rent our two studios separately - we rent the entire area only! This gives our clients the opportunity to shoot in both studios, exclusive access to all areas and privacy.
2. Ten people in the building in groups of up to 6 and ensure social distancing.
3. All frequently touched surfaces are being sanitised before and after every booking, including: door and all other handles, make up area, hand rails, all used photography equipment (lights, stands, triggers etc.), kitchenette, bathroom.
4. We ask all our clients to wash and sanitise their hands upon arrival and throughout their booking. We have installed two sanitising stations in our studio (in the lounge and make up areas). There are two sinks with antibacterial hand wash available.
5. We ask all our clients to adhere to the social distancing rules where possible (2m apart, no touching).
6. Our staff will see our clients in and out, but will not stay in the building during the booking to minimise the risks of spreading the infection. Our staff will help the clients with set-up and take-down. Clients will be given a phone number to call anytime during the booking if having any questions. If needed, staff will arrive within 15min to resolve any issues.
7. We reserve the right to refuse an access to anyone unwell.
This ideal photographic location has the benefits of studios, common area, reception, toilet and kitchenette and outdoor courtyard garden. Established for 8 years Studio101 has developed into a creative hub providing a platform for artistic innovation and personal development.
............................................................
Beauty Salon, Lounge, Hair and make-up area
Lounge Through Spiral Staircase
............................................................
Studio Garden Bench Table and Chairs
Studio Resolution Way Door
............................................................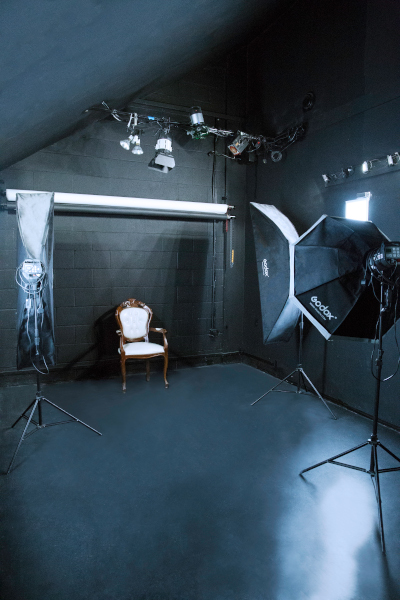 White studio hire infinity cove continuous and flash lighting
Black studio hire video and flash photography
Lounge Cement and Green Panel Walls
Green Screen and Black Studio